| | |
| --- | --- |
| Company's name | Sofia, Inc. |
| Representative | CEO Takuya Hirota |
| Date of Establishment | Feb. 5, 2001 |
| Address | 1-2-3 Azabu-juban Minato-ku, Plus Astre building 8F Tokyo, 106-0045, Japan GoogleMap |
| Telephone | 03-5574-7031 |
| FAX | 03-5574-7034 |
| Capital Stock | 31,900,000 JPY(2014, March) |
| Our Banks | Mizuho Bank, Sumitomo Mitsui Banking Corporation, Bank of Tokyo-Mitsubishi UFJ |
| Business fields | |
| Awards | The Public Relations Society of Japan, "PR Award Grand Prix 2018 " Silver Award Click here for details in Japanese |
| Subsidiary | Sofia Circular Design Inc. (Company Info in Japanese) |
Business Fields
Sofia is the Communication Design company to "Motivate people and organization". Nowadays in organizations not only decision-makers but also ordinary employees are required to "change" as the business environment does in every single day. Despite the situation that many employees are unmotivated and not able to think about anything but tasks in front of themselves, the market never stops imposing them to deal with those changes. Valuable products/services would not be produced unless employees and organization are fully motivated. Therefore, we provide following four Business Domains to motivate people and organization.
4 Business Fields

1

Communication for Engagement
We pilot your organization to the right condition that employees do not ignore organization's values and goals as they are informed and motivated by their surroundings.
2

Communication for Change management
We will help your organization transform through communications towards the state it is aiming for.
3

Communication for Customer value
We review your company's products, services, and business flows from the perspective of end users as customers to increase added value.
4

Communication platform
We rebuild a platform within your organization to facilitate communications between the company and employees and among employees.
CEO message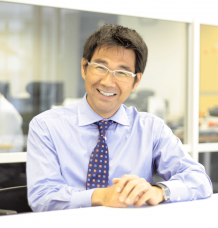 This year, we, Sofia, get into business for the 20th anniversary year since our foundation.
Looking back on the last 20 years, I think it was just thanks to a series of good lucks rather than running and building up the business as we plan to do. There were encounters with a variety of people, and those encounters created new values. I feel that these things happened unintentionally and as a result, we have been kept alive. I'm not sure how to thank for the warm supports from those who have been involved with us so far. Thank you very much. At the milestone of 20th year, I renew my determination to return my gratitude to them, and to rejuvenate more people along with the people I met.
At the same time, 2020 is a starting point for us for another new 20 years to come. What are waiting for us in the future? It is said to be a turbulent era, and society is changing rapidly. Needless to say, the way companies and organizations are running and how individuals work will change dramatically. In response to these changes, Sofia will continue to change flexibly without forgetting the attitude of "amusing ourselves with changes." In a society where continuous economic growth has subsided, communication is an important factor for companies and organizations as well as individuals to continue to grow together. That's why Sofia has been focusing on internal communications at its core business. Not only we will make many people work more vigorously and support the organizations' performances, but from now on, we will care for social issues and communities and local governments, and provide services with a wider perspective than ever before.
However, no matter how the society and the services we offer change, what we want to do is simple. That is, each one is proud of his/her work and shares the joys and hardships with family and friends, and the organization and community is rejuvenated by the lively working people. "We invigorate people and organizations" Our mission is unchanged. We would like to continue to be a group that is always on the lookout, identifies what we can do, and steadily pursues them, without losing sight of the society that should be realized in the future.
President and CEO, Takuya Hirota